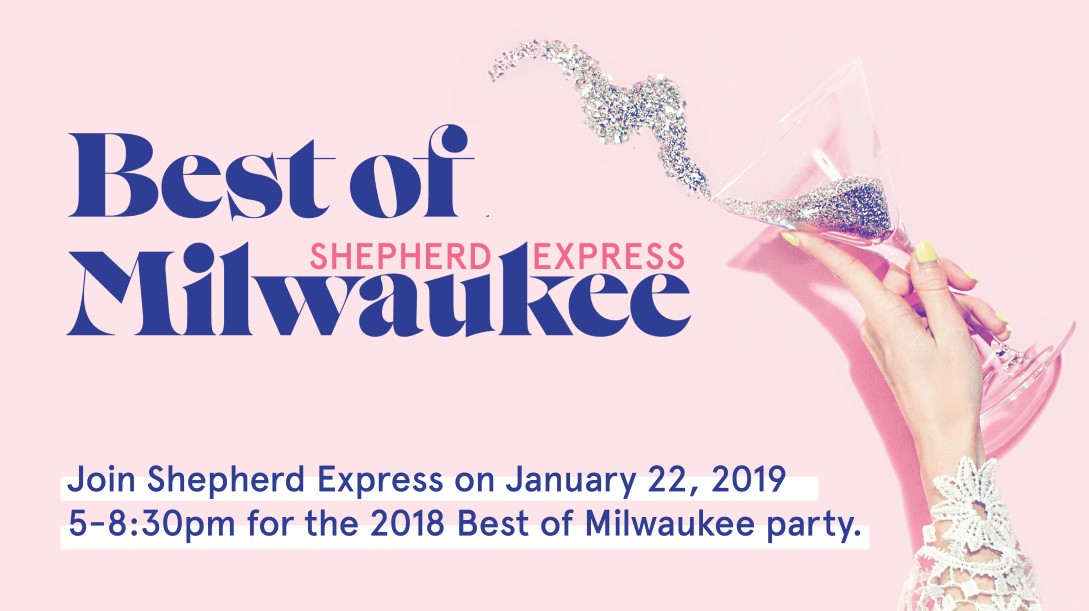 2018 Best of Milwaukee Party
Tue, Jan 22 from 5pm - 8:30pm
Hang out with the best of the best on Tuesday, January 22nd from 5:00-8:30 p.m. at Potawatomi Hotel & Casino. Shepherd Express will reveal your 2018 Best of Milwaukee choices and celebrate with all of our spectacular finalists and winners. Enjoy complimentary appetizers from a growing list of local restaurants, music, live entertainment, casino games, $10 FKC Rewards Play to use at the casino and more! Also, every guest will be automatically entered for a chance to win a Victory Lane leather Harley jacket (valued at over $400), courtesy of Suburban Motors Harley-Davidson!
All finalists will receive an invite with a free ticket code. If you have not been contacted, please reach out to Rachel@Shepex.com. With a very limited number of general admission tickets, make sure you grab yours fast!!

Advance Tickets: $20
Tickets are NOT available at the door.

A portion of every ticket sold will go to Next Door, which provides early childhood education in Milwaukee, helping children and families build a brighter future filled with opportunity and success.

Food Vendors: Ball n' Biscuit Catering, Balzac, Casablanca, Jen's Sweet Treats, Oberweis Dairy, Three Lions Pub, On the Bayou, The Soup Market, Tall Guy & A Grill, Pasta Tree, Entourage Cafe & Bakery, Anytime Arepa, Kilwin's Chocolates, Dawn's Yummy Delights, Garden of Eden, Safehouse, West Allis Cheese & Sausage Shoppe, Devon Seafood, MIlwaukee Chop House, Pedro's South American Food and Carrie's Crispies.