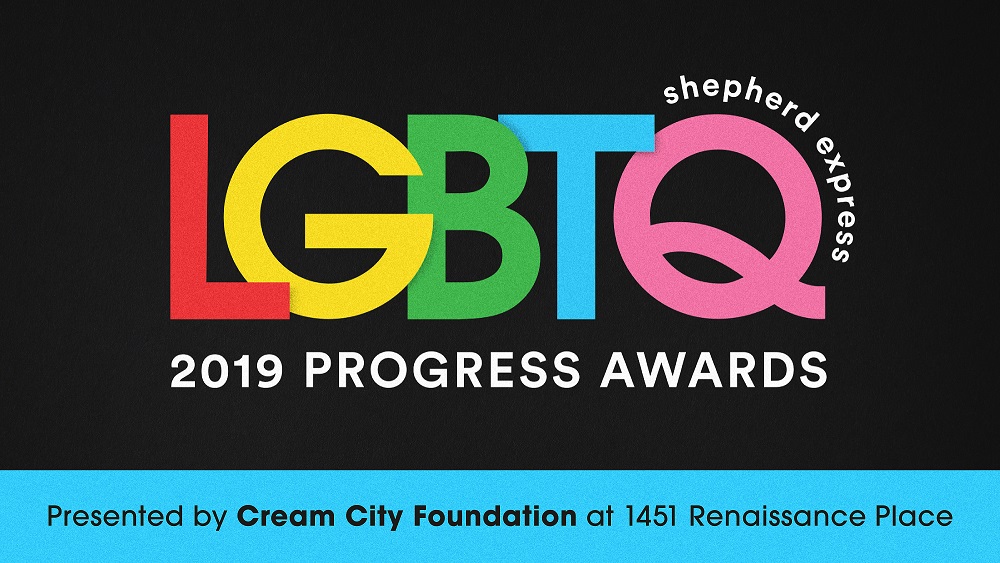 2019 LGBTQ Progress Awards
Thu, Aug 8 from 5:30pm - 8pm
Online ticket sale have ended. Please email Carrie@shepex.com to purchase tickets.
Shepherd Express and Cream City Foundation are excited to celebrate LGBTQ progress in Milwaukee on Thursday, August 8th at the 1451 Renaissance Place. $1 of every ticket sold will be donated to Diverse & Resilient and 5% of all proceeds during the night will go directly to the Cream City Foundation. With your support, we can make great strides in Milwaukee and beyond!
TICKETS:
Individual Ticket: $50
Half Table- Four Seats: $180 ($45/seat)
Full Table- Eight Seats: $360 ($45/seat)
**Limited seating available. ALL winners receive a FREE seat at the event**
EVENT TIMELINE:
5:30-6:15pm Socializing and cocktails
6:15-7:00pm Dinner – Catered by Simple Eats MKE (Dairy & Gluten-Free, Vegan option available)
7:00-8:00pm Awards Presentation
AWARDS:
LGBTQ Struggle for Equality sponsored by Diverse & Resilient
WINNER: Brenda Coley and her partner Dr.Sandra Jones
LGBTQ Progress in Philanthropy sponsored by Planned Parenthood
WINNER: Cream City Foundation
LGBTQ Progress in Youth Activism sponsored by Courage MKE
WINNER: Pedro Perez Valdez
LGBTQ Progress in Activism sponsored by Stephanie Murphy DDS
WINNER: Bill Meunier
LGBTQ Progress in Business sponsored by Northwestern Mutual
WINNER: This Is It
LGBTQ Progress in Arts& Culture sponsored by Marcus Center for the Performing Arts
WINNER: Mrs. Fun (Connie Grauer and Kim Zick)
LGBTQ Progress in Health and HIV Awareness sponsored by ARCW
WINNER: Act-Up (Yuri Keegstra, Christopher Fons, et al)
LGBTQ Progress in Sports sponsored by Milwaukee Gay Sports Network
Winner: HIT Bowling Organization
Special thanks to our Ally Sponsor, Walker Forge Inc.
Thank you to our partners: 1451 Renaissance Place, Snapdragon Flowers, Table of Contents Vintage Rentals, Simple Eats MKE and Cranky Al's.
Please contact eventreg@shepex.com if you have any questions.