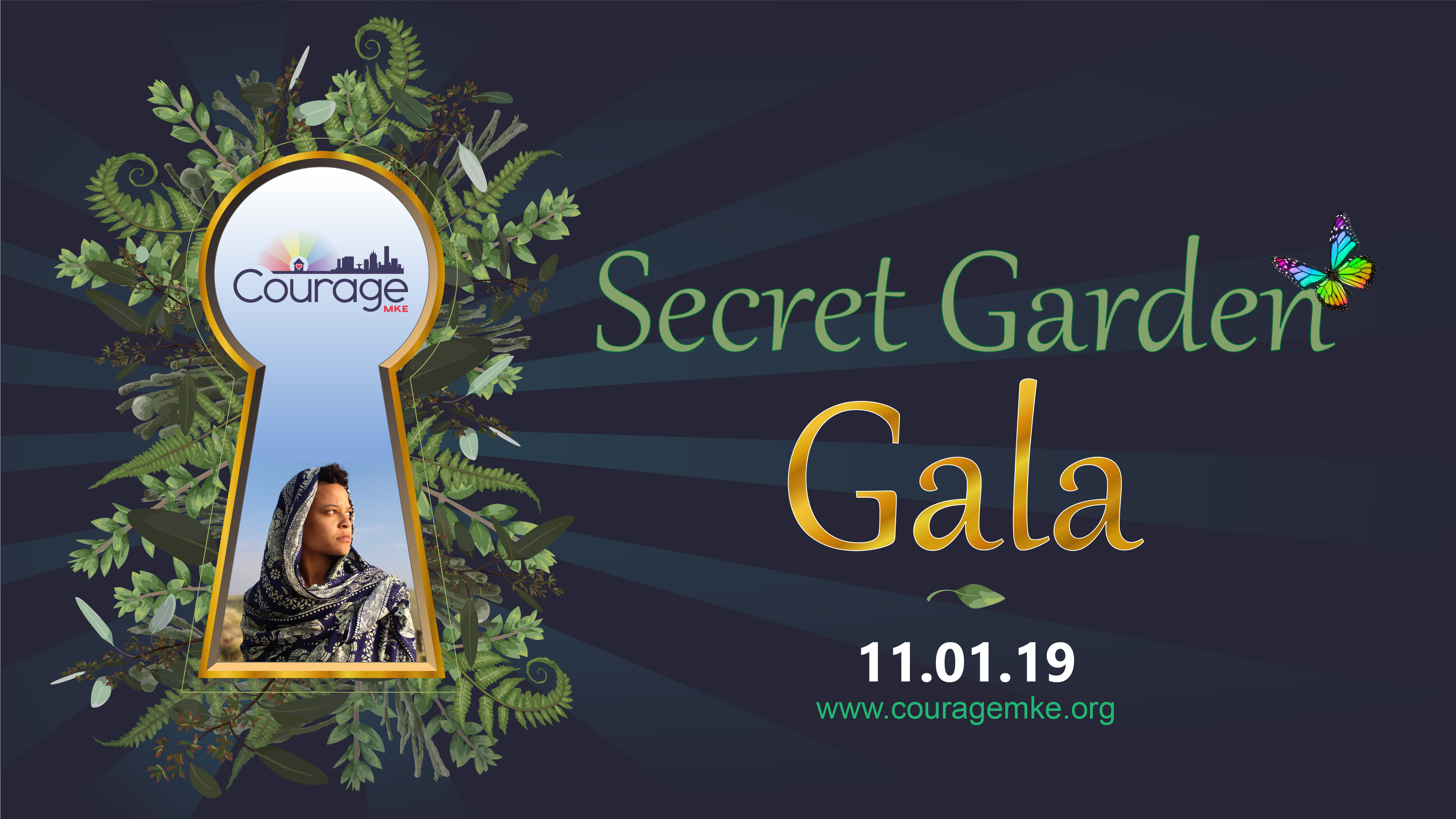 Courage MKE's 2019 Gala: The Secret Garden
Fri, Nov 1, 2019 from 6pm - 10:30pm
PRESENTED by: Mr. Jesse Mendelsohn & Dr. Anthony Porcelli and Wells Fargo, Courage MKE's Annual Gala; The Secret Garden will be on the evening of Friday, November 1, 2019 at The Pritzlaff in Milwaukee, WI.
This past Spring, we opened the doors to The Courage House, Wisconsin's first home for displaced LGBTQ+ youth. 100% of this fundraiser will go directly to sustaining the Courage House, supporting the youth that will live there and applied to our Courage House 2 fund. We hope that you will join us as we share our 2019 accomplishments and what we have in store for the future.
"The Secret Garden's theme is Happiness. The Secret Garden really couldn't be clearer about its moral message if the book were called Happiness = Unselfishness. Basically, the secret to happiness in this book is to think less about yourself and more about the other people (and plants) around you. Each of you will be forever part of our Secret Garden because of your generosity, love and heart for those that we serve."
During the event you can expect:
Silent Auction
Live Art Auction
Raffles
Food stations and passed hor d'oeuvres by Zilli Hospitality Group
Live Entertainment By:
Our Keynote Speaker, Shea Freedom and back by popular demand it's the return of the Courage MKE Drag Show featuring every Mr. & Miss Courage MKE to ever wear the crown, Nadia St. James, Jaida Essence Hall, Nova D'Vine, Montell Infiniti Ross, Tempest Heat, Easton Boyd, Miss Birdie and Eddie Candelaria with special guests Dita Von, Betty Boop and a VERY SPECIAL surprise guest that we are keeping a secret until the night of the Gala!!!
Awards:
Featuring our 2019 Scholarship Recipients & our annual We're In This Together Award.
MOST IMPORTANTLY - The chance for our Courage MKE Family to come together for one night to celebrate everything we have ALL done together!!
Our dear friend Alley Faith from 103.7 KISS FM will be hosting this year's gala. We are ecstatic to have her join Courage MKE Family on November 1st!
We are honored to welcome Shea Freedom as our Keynote Speaker this year. In song or as a speaker, you can find Freedom advocating for foster youth, human rights and environmental issues. Born in Los Angeles Freedom was raised in California's foster care system where he was subject to 28 different placements. Like 68% of foster youth, Freedom emancipated into homelessness. No doubt the early instability would prepare him for the fast paced life on the road. He has found his home on stages across the nation.
We want everyone to come as they are most comfortable, dress up if you'd like to, and if not that's ok too! You are perfect either way!
Ticket prices are $40.00 in advance and $50.00 at the door
To learn more about us, please visit our website: www.couragemke.org
Please direct questions about the Gala to our Project Director, Marcus Wise: marcus@couragemke.org
Interested in donating to our silent auction or sponsoring the Gala, please email Marcus Wise: marcus@couragemke.org
Media inquiries please contact our Executive Director, Brad Schlaikowski: brad@couragemke.org